Sezgisel arayüz, güçlü performans, kusursuz soundlar... 
Kutu İçeriği: Güç kablosu, Lan Kablosu, USB kablosu, RCA pin kablosu
Performanslarınıza efektler ekleyin! 
Eşzamanlı sampling yapın. 
DJ Kabini için eşsiz boyutlar. 
Usb Flash bellek girişi. 
Dahili Loopmaster ses bankası
Özellikler

Medya Tipi : USB storage device(flash memory/HDD, etc.)

Desteklediği Kaynaklar : WAV, AIFF (16 bit/24 bit, 44.1 kHz)

Dosya Türleri : FAT, FAT32, HFS+

Giriş Portları : OUTPUT1 x 1 (RCA) THRU / OUTPUT2 x 1 (¼-inch TS jack) PHONES x 2 (1/4 inch stereo jack, 3.5 mm stereo mini jack)

Diğer Portlar : USB (Type A) x 1, USB (Type B) x 1 MIDI IN (5P DIN), MIDI OUT / THRU (5P DIN) LINK x 1 (LAN 100Base-TX)

Güç : AC 110–220V (50 Hz/60 Hz)

Elektrik :  20W

Boyutlar (W x D x H) : 320.0 mm x 421.6 mm x 110.1 mm

Ağırlık : 5.4 Kg
Sahnede yaratıcılığınızı zirveye çıkarabileceğiniz yeni DJS-1000 DJ Sampler, kusursuz soundlar ve zengin performans için en büyük yardımcınız olacak. 
İçinde bulunduğumuz çağın elektronik müzik performanslarını düşünürseniz, artık dj setlerinden daha çok canlı performanslar veya dj setuplarına eklenen çeşitli groovebox, syntheiser veya samplerlarla desteklenen performansları görebilirsiniz. DJS-1000 tam olarak bu ihtiyacı karşılamak için üretilmiştir. Kullanımı kolay dj dostu, DJS-1000 16 adet çok renkli performans pedleri ve key'leri ile sıradışı akor ilerlemelerine ve performans özelliklerine olanak tanır.
Step Squencer
FStep SquencerBu sihirli squencer ile yeni bir groove yaratmak çok kolay. 16 adet değişebilen renkli key tuşları sayesinde, tuşların renklerini takip ederek birçok değişikliği gözlemleyerek de takip edebilirsiniz.
Performans Padleri
Performans Padleri16 Adet RGB Multicolor padleri yeni ritimler ve melodiler üretmek hem kolay hem de çok konforludur. Ultra hassas bu padler ile performansınız parmaklarınızın ucunca olacak!
DTouch Strip
Dokunmatik touch strip ile kullandığınız tüm seslere Pitch uygulayabilir, performanslarınızı zenginleştirebilirsiniz.
7 inch Geniş Dokunmatik Ekran
DJS 1000'in sahip olduğu geniş dokunmatik ekran ile çok kompleks işlemleri bile kolayca yapabilir, sample ve looplarınızı bu geniş ekrandan takip edebilirisiniz.
CDJ'ler ve Toraiz SP 16 ile SYNCH!
Performanslarınızı bir sonraki boyuta taşıyacağınız DJS 1000 ile looplarınızı düzenleyebilir farklı sequencelerde dilediğiniz gibi çalabilirsiniz. Geniş bir yaratıcılık alanı sunan DJS 1000, tüm cdj serisi medya oynatıcılar ve Toraiz SP 16 ile sync olabilir ve senkron olarak çalışır. Aynı zamanda 7 inch dokunmataik ekrana sahip olan DJS 1000 sahip olduğu efektler ve bağlantı şekilleriyle setubınızın vazgeçilmezlerinden olacak.
ELEVATE THE STANDARD
Add the DJS-1000 to your DJ set-up to intuitively create unique sounds and phrases in advance of your set, or on the fly. Use the DJ-friendly interface to sequence and loop your samples as you wish.
With a 7-inch full-colour touch screen, 16 multicoloured step input keys, multicoloured Performance Pads, a host of inputs and outputs, Live Sampling and various other performance features, having the DJS-1000 in the booth will propel your sets to the next level.
IN ACTION
TESTIMONIALS
KINK
"The DJS-1000 is the best tool for live looping and arranging sounds right now."
WILL CLARKE
"The DJS-1000 is a super creative tool in my sets. It enables me to add layers and texture to records, allowing me to build more tension in the club.
I've always wanted to have a step sequencer next to me that's super easy to set up and just plug in and play.
I'm excited to see what else will come out of working with the DJS-1000."
KEY FEATURES
STEP SEQUENCER

Easily create a new groove by tapping the 16 large, multicolored step input keys. Thanks to the keys' changing colours, you can keep an eye on sequence information on each track, at all times.

TACTILE PERFORMANCE PADS

Load up to 16 samples to the large rubber pads, then finger drum freely to layer sounds on-the-fly. The multicolour LEDs show what samples are in play, while Velocity Mode lets you control the sample volume with the amount of pressure you apply.

TOUCH STRIP

Simply touch the strip to change the pitch while using the Pitch Bend feature, or play a drum roll by hitting the Note Repeat option. Customise parameters for even more creative possibilities.

7-INCH TOUCH SCREEN

Tap the LCD display to instantly access one of three screens. The Home screen for an overview of assigned samples, the Sequence screen to view the currently playing sequence pattern and the Mixer screen to adjust each track's volume.

ACCURATE SYNCING

Sync up your DJS-1000 to a CDJ or XDJ set-up using Pro DJ Link. Thanks to the Beat Sync function, a tempo slider and a Nudge button, you'll adjust tempo and beat position manually, just like you would on a turntable.

LIVE SAMPLING

Sample input sounds and instantly use them as individual tracks. Your sampled sounds are automatically synchronised with the current sequence. Play them in a loop and drop them straight into a live remix.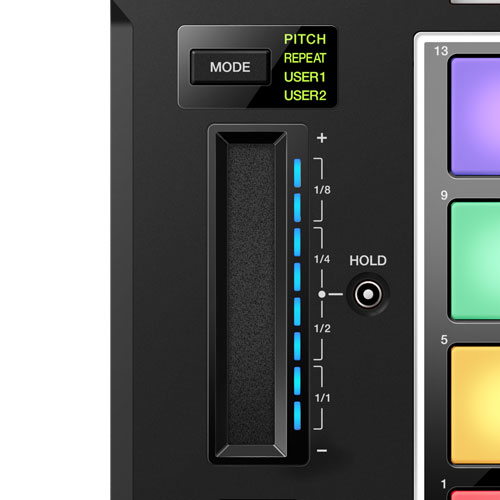 FX

Add flair to your set and be inspired by the moment, using various FX to boost your tracks with ease, changing the tone of the track on the fly.

Made for the booth

The DJS-1000 pad player will fit right in next to your NXS2 setup in the booth.

USB supported

Manage your projects and samples easily with the USB input, allowing you to browse your tracks at a glance and have your whole library at your fingertips.

On-board samples

Start performing with the DJS-1000 straight out of the box by using the on-board Loopmaster samples and enriching your tracks.

DJS-TSP Project Creator support

Create projects and scenes on a PC or Mac using the DJS-TSP Project Creator softwarethat's compatible with the DJS-1000.

TORAIZ SP-16 support

Care to play files created using TORAIZ SP-16? The DJS-1000 plays your creations as it would any other track.

Splice Sounds

Your DJS-1000 integrates with Splice's extensive sample library. Prepare and manage sound kits and sequences in the cloud and load them into the sampler for your next performance.